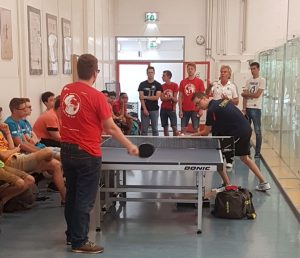 On the sportday of the intro week at the TU/e, 80 upcoming students signed up to play table tennis.  Some players played before in another club, but most of them were totally new to the sport, but seem to be very interested. The great organisation of ESSF this year, with a clinic of 1 h and 10 min gave the ideal opportunity to get familiar with the sport.
The demonstration also amazed a lot of players. Playing defense 4 meter behind the table in a tiny space while picking up balls rolling over the ground made a lot of people laugh. Trying to hit a serve of our players on the table was also a good challenge, and some even succeeded.
Again we would like to thank the volunteers of Taveres and also our trainer Hans Gruijters, who explained the basics during the intro course.