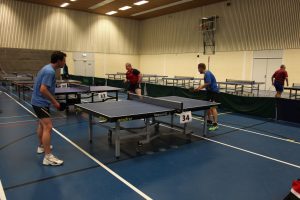 A lot of members asked us if they can play tabletennis during the summer. The answer is yes! We keep on training during the summer. Our trainer Hans will occasionally be there as well, but he will not give exercises.
We will be training in July and August on Mondays from 18:00-20:00h and on Wednesday from 20:00-22:00h. The hall will be 2b on Monday and 3b on Wednesday most of the time, however, this can be changed by SSC. Therefore, please first check the location of the training at the reception of the SSC. On Wednesday, August 29th, there will be no training, since the hall is occupied that day.
During the trainings in the summer, also non-members are welcome. You do need to have a sportscard of SSC. We wish you a great summer and hope to see you again upcoming year!